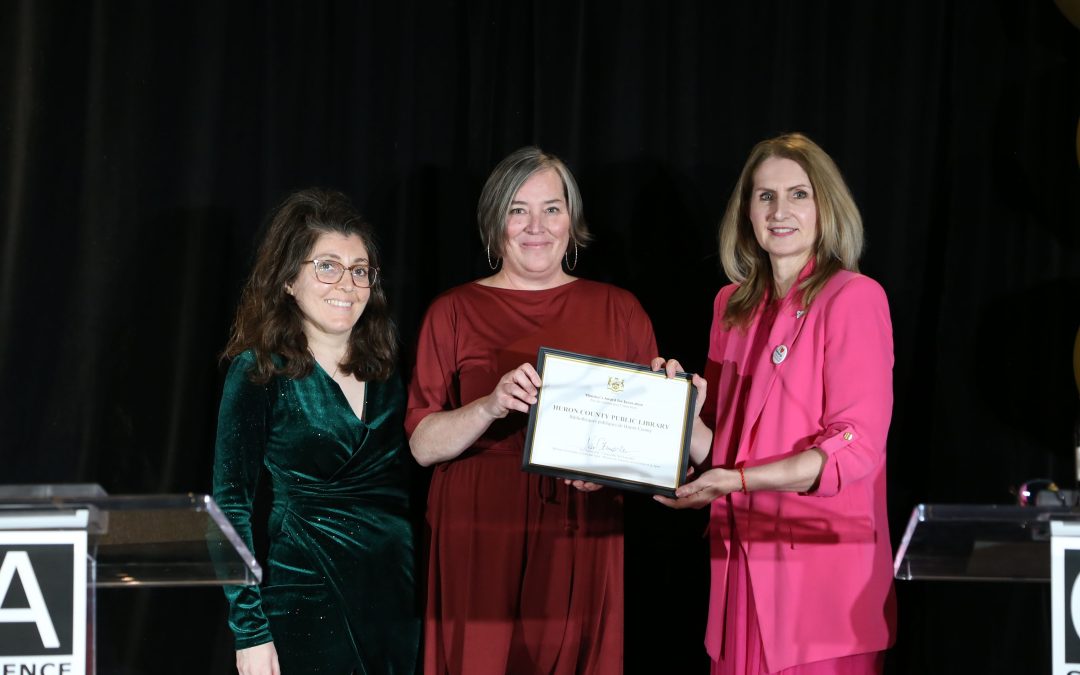 The Huron County Library is honoured to be this year's recipient of the Minister's Award for Innovation in recognition of the In Your Backyard program.
Presented to library staff at the Ontario Library Association Super Conference on Feb. 2 in Toronto, this Ontario Public Library Service Award recognizes successful new approaches that demonstrate a positive impact to the community and are of continued value to public libraries. 
In the spring of 2022, library staff hosted In Your Backyard, a virtual local travel series that highlighted several hidden gems found across Huron County. Inspired by Ontario West Coast's tourism program which ran during the pandemic, staff worked with local municipalities to invite participants to learn more about the communities and businesses found right in their backyard. Building on the popularity of the program, the library partnered with the County of Huron's Economic Development department to offer an exciting summer giveaway that further encouraged people to get out and explore these hidden gems for a chance to win a Huron County weekend get-away. Locations represented each municipality in the County and were chosen to ensure they were accessible and free for everyone to enjoy.
"I am so proud In Your Backyard was recognized for its efforts to collaborate with our local communities to highlight all of the incredible things available so close to home," said Beth Rumble, County Librarian and Director of Cultural Services. "The program provided the opportunity for the library to support our communities and businesses who were in a state of rebuilding after the pandemic, and to give people the chance to safely get out and explore Huron's hidden gems."
 While the program ended in September, 2022, Huron's hidden gems are still available to explore! 
During the conference awards ceremony, the Huron County Library was also presented with a certificate for reaccreditation as an Accredited Ontario Public Library. This designation was granted by the Ontario Public Library Guidelines Monitoring and Accreditation Council in recognition of excellence in library service. A library is judged and rated on more than 175 guidelines that evaluate library services, resources, planning and policy. Completing the accreditation process is an opportunity to highlight a library system's capabilities and to identify areas for improvement. Huron County Library achieved an overall score of 98.3 per cent. Library accreditation is an optional process of which only 40 other Ontario libraries have successfully completed. Achieving this standard demonstrates that Huron County has an exceptional library system.