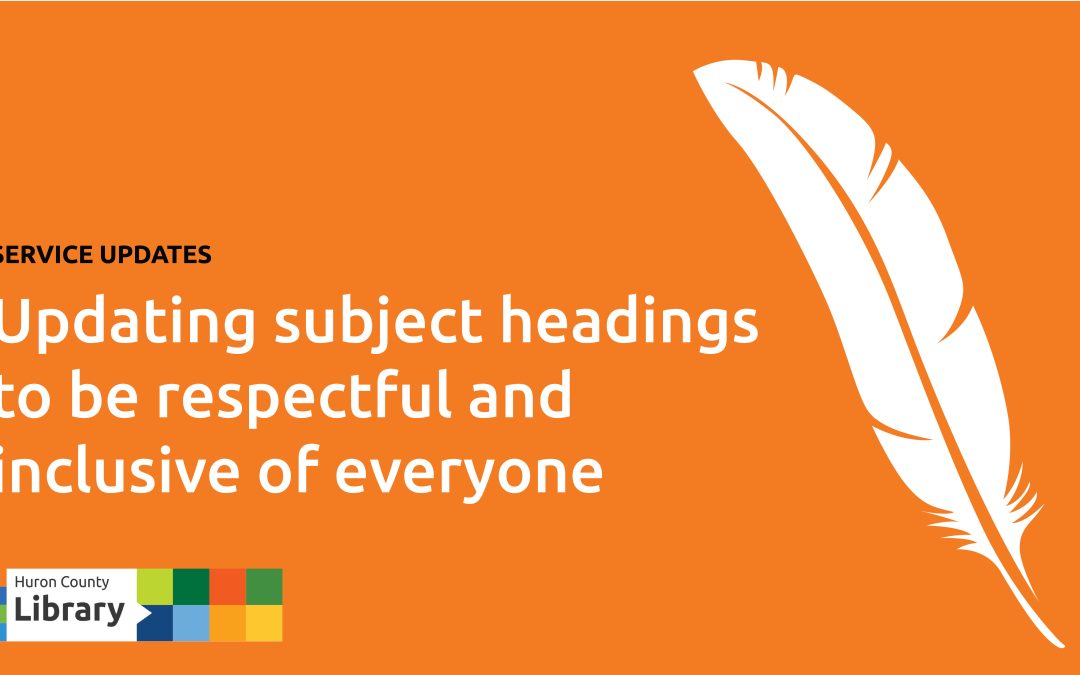 Since January 2021, the Huron County Library has been taking steps to update catalogue subject headings to be respectful and inclusive to all members of society. This project was spurred on by the social need for improved representation in library catalogues for Indigenous peoples, who are currently identified using colonial and offensive terms, which libraries across Canada have deemed unacceptable for further use. Libraries rely heavily on subject headings to provide access to information. When terminology is incorrect, or disrespectful, this affects the users both consciously and sub-consciously, often reinforcing stereotypes and bias.
The Library began receiving catalogue records from our material vendor, Library Services Centre, that included updated Indigenous subject headings that are based on the great work done by the Greater Victoria Public Library system, who shared their list of respectful headings compiled from a variety of sources including the University of Manitoba, the Association of Manitoba Archives, and through resources put out by the Indigenous Corporate Training Incorporation such as Indigenous Peoples: a Guide to Terminology, Usage Tips and Definitions for Indigenous peoples and subjects.
At the time, these headings were not the official authority subject headings put out by the Library of Congress or by Library and Archives Canada, however the demand was too great to wait for these institutions to come to an industry standard. Since then, Library and Archives Canada has begun extensive work on Canadian Subject Headings that will be used in our records as they come available.
In order to update headings already in our catalogue, Huron County Library joined a committee along with other members of the Ontario Library Consortium to work on a system for updating subject headings and have begun compiling a list of old headings within the catalogue, are finding valid new headings from the agreed upon sources, and then updating or records on a monthly basis. These ongoing updates aim to remove bias, improve access and look for new ways of describing material. While our records will continue to hold the official Library of Congress or Canadian Authority Heading, as well as the updated versions of the headings until the official authority records change, once complete, this work will enable a dynamic, multilingual set of terminologies applied to all Indigenous Peoples, places, heritage, tradition, and communities.
Huron County Library is a supporter of Indigenous Authors and of the First Nations Communities Read Program. Check out some of this year's titles!